The Indian River Lagoon connects land and sea. It links human communities in a great blue way that enhances the quality of our lives. It represents an important regional economic engine that provides significant benefits to Florida.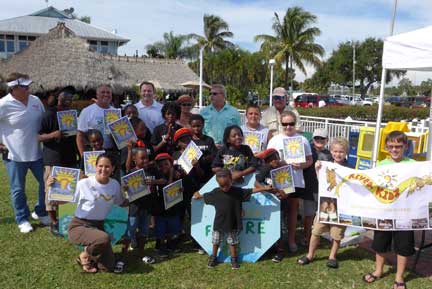 The Indian River Lagoon is more than a beautiful body of water nestled inside coastal barrier islands – it is one of the greatest estuaries in North America. Its diversity of life is unmatched, and it serves as a spawning ground and nursery for many different species of fish and shellfish. Many creatures, including popular gamefish like Tarpon, Redfish, and Snook depend on the Lagoon. Wading birds, Pelicans, Manatees, and Dolphins all make the Lagoon their home.
We humans also depend on the health and vigor of the Lagoon's ecosystem. The Indian River gives to us all. The estimated annual economic value of the Indian River lagoon is $3,725,900,000. That is a staggering economic impact that affects both the communities and economies along the Lagoon's entire length. Essentially, everything about our way of life is enhanced and given greater value due to the influence of the Indian River Lagoon.
The Lagoon is 156 miles long, stretching from the Ponce Inlet in New Smyrna Beach to Jupiter Inlet.

Six counties border the Lagoon – Volusia, Brevard, Indian River, St. Lucie, Martin, and northern Palm Beach.

The Lagoon's present watershed totals 2,280 square miles.

The Lagoon contains 145 square miles of habitats including mangrove forests, sea grass beds, salt marshes and maritime wetlands.

1,461,760 acres of upland and wetland ecosystems, as well as areas developed for human use surround the Lagoon.

More than 200 spoil islands created from dredge material provide habitat and recreational sites in the Lagoon.
WHAT LIVES IN THE LAGOON?
More than 2,100 species of plants and more than 2,200 species of animals, including 50 species that are threatened or endangered make the Lagoon and its watershed their home.

Manatees and Dolphins are the only two aquatic mammals that live in the Lagoon.

More than 1/3 of all manatees in Florida live in, or migrate through the Indian River Lagoon.

Indian River Lagoon Dolphins are a resident population and live only in the Lagoon.

The Indian River Lagoon is rich habitat for animal diversity – more than 700 species of fish and 300 species of birds live in the Lagoon and its watershed.
The Lagoon is an estuary, a mix of salty sea water and fresh water from upland areas. It is separated from the Atlantic Ocean by barrier islands.

Habitats in the Lagoon include both temperate marshes and tropical mangrove vegetation, making it one of the most biologically diverse estuaries in North America.

Three different bodies of water – Mosquito Lagoon, the Banana River, and the Indian River – form the Indian River Lagoon.

Shallow waters comprise most of the Lagoon, which has an average depth of 3 feet, but navigation channels have been dredged to 10-12 feet deep.

Water circulation in the Lagoon is mostly driven by wind rather than tides.
Seagrasses are the rainforests of the estuary. They are of vital importance to life in the Lagoon because they provide food and hiding places for many animals, including many commercially important fish and invertebrate species. Seagrasses are aquatic plants that live underwater, and just like plants that live on land, they have roots, leaves, flowers, pollen, and seeds. Seagrasses rely on sunlight for photosynthesis, so water clarity is important to their health. Seagrass beds have decreased by more than 90% in some areas of the Lagoon, and this loss has resulted in decreasing fish populations. The Indian River Lagoon is the only estuary in Florida where all seven species of Florida seagrasses are found.
Open water habitats make up about 65% of the Lagoon, and include all of the Lagoon bottom not covered by seagrasses, as well as the water column itself. Whether rocky, sandy, or muddy, bottom sediments provide homes for invertebrates like clams, oysters, conchs and other mollusks, and a number of other interesting creatures like crustaceans and sponges. Microscopic plants called phytoplankton live in the water column, and these tiny plants are important food sources for zooplankton, which are free-floating animals. These tiny plants and animals are eaten by the larval forms of Anchovy, Mullet, and Spotted Seatrout. These larval fish are then eaten by larger fish like Redfish and Tarpon.
MANGROVES AND SALT MARSHES
Mangrove forests and salt marshes are tidal, so sometimes these habitats are covered by water. They are important places for wading birds to feed, roost, and nest. They also provide homes for small fish, invertebrates, and insects. More than 80% of sport fishing species spend part of their lives in these tidal wetlands. Three species of mangrove trees are found in the Lagoon, including red mangrove, black mangrove, and white mangrove. Salt marshes are made up mostly of grasses or rushes. Most salt marshes are found in the more northerly parts of the lagoon where occasional winter freezes limit mangrove growth. Mangrove forests and salt marshes protect water quality by filtering sediments, nutrients, and pollutants from the water column. They also protect the shoreline from erosion.
More than 200 spoil islands were created when the Indian River Lagoon was dredged to create the Intracoastal Waterway. Most spoil islands have a fringe of mangroves and small beaches, with trees and shrubs on the upland areas. These islands provide roosting, feeding, and nesting sites for birds – in fact, most of the roughly 50 bird rookeries found in the Lagoon are located on spoil islands and in mangrove forests.